Supportive Cushioned Knees + Elbows
Soft Antimicrobial Peppermint Fabric
Moisture-wicking & UPF 50+ Protection
Biodegradable + FSC Certified Packaging
That's what we set out to make. We're not competing with the fast fashion baby brand's of the world. We're doing our thing, and making sure we do it right. The perfect baby outfit for literally any-and-every baby is tailor made for your on-the-go lifestyle (not-to-mention your baby's evolving milestones). It's the indoor-outdoor, easy-on, so-soft-they-won't-want-to-take-it-off, tell-all-your-friends-about-it playsuit you've been wishing existed. Now it does.
We're a sustainably-focused brand for the new generation we're serving. That's why the product itself features eco-friendly materials, and shipping and packaging materials are biodegradable, compostable, or FSC certified. Plus, we partner with One Tree Planted—to plant a tree for every order placed (as if you needed another reason to try).
Created for a NY baby's busy lifestyle, and as it turns out, is actually the perfect one-and-done outfit for any baby. The playsuit designed with adventurous tots and active parents in mind.
Breathable | Flexible | UPF 50+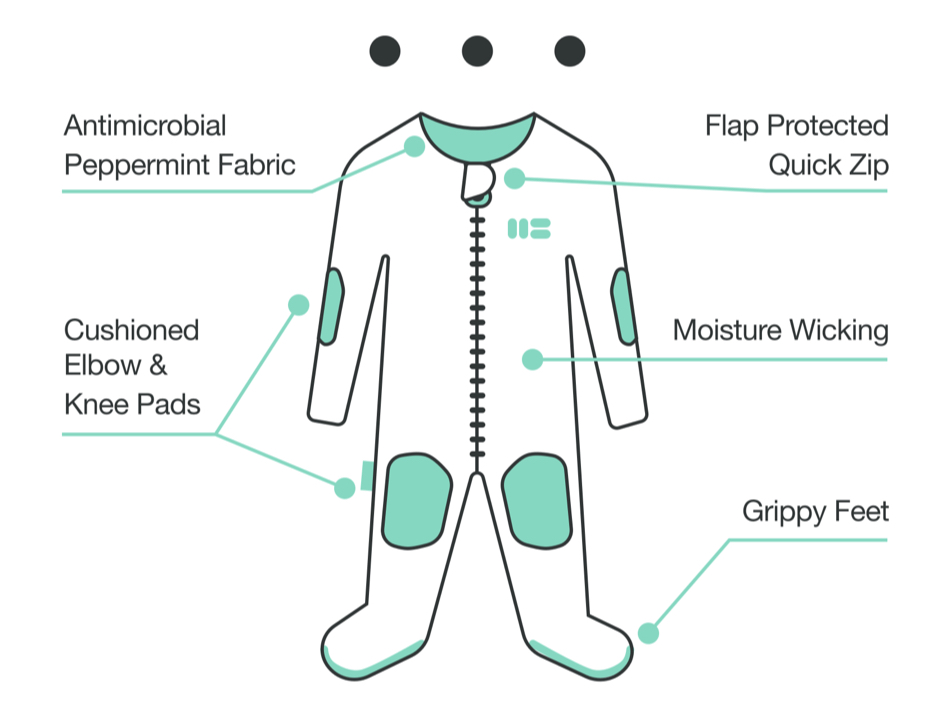 Our playsuits are crafted from antimicrobial peppermint fabric to keep your baby cool and comfy. Featuring innovative (and ouch-resistant!) 3D Air Mesh pads to protect precious knees and elbows. Plus, grippy feet, quick zips and durability for days. Meet the be-all-end-all outfit for active babies.
---
Check out what moms and dads are saying about the Smartsie!
This playsuit is the most buttery soft outfit my little one owns. And it's perfect for her go-go-go personality. Our entire first floor is hardwoods and she crawls everywhere, so the padded knees and elbows are great for her! It's literally the playsuit I didn't know I needed!
- Samantha H.
Zero complaints! I love the material. As a mom - I hate hot materials they normally make this style in. I love the grippy feet! Also the extra knee padding! The top of the zipper has a perfect protector on it, a huge plus for me. The finishes are made so well. I'd buy for my kids without any hesitation.
- Lydia G.
I love the outfit because it has paddings on the knee and elbow so babies who are crawling or aren't walking well but already walking have protections indoor or outdoor. Quality of the fabric is really great, even after washing quality stands. Designed simple and stylish. Perfect for baby shower gift!
- Rurina C.
Made with the highest standards and quality at the forefront. Our Smartsie will live up to your expectations (and then some).
Built for life's inevitable *OOPS!* moments. We've got your active baby covered, comfortably.
We partner with One Tree Planted (a nonprofit dedicated to global reforestation) to plant a tree for every order placed.